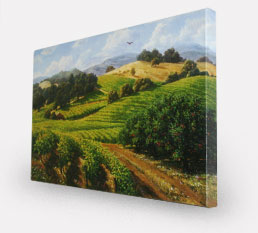 Canvas Giclée Print with Gallery Wrap
12" x 40"
$375 - Free Shipping
Add to Cart
These are printed on high-grade canvas using the giclée process. We use quality archival inks for color permanence and the art is mounted on stretcher bars. The gallery wrap allows for attractive presentation framed or unframed, with continuation of the image along the edges. Each print is made by the artist at his studio in Sebastopol, CA. After mounting, he applies a brushstroke texture to each piece.